Young engineers recommend studying at FAU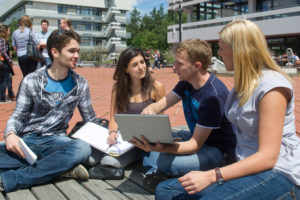 Young engineers at FAU give the University top marks and gladly recommend it to other students. This is the result of the Engineering Edition of the Graduate Barometer published each year by the market research company Trendence.
Students of mechanical engineering, mechatronics, and industrial engineering and management at FAU are more satisfied than students in the rest of Germany and Europe. In fact, student satisfaction at the University has increased compared to last year. Another excellent piece of news is that 93 percent of FAU students would recommend the University. Students also gave it top marks for the international orientation of its degree programmes, career opportunities, services, support and student activities.
Over a quarter of the FAU students surveyed (nearly 28 percent) said that they had already spent time studying abroad. This means that they have considerably more international experience than other students in Germany and Europe, only around 13 percent of whom have studied abroad. The percentage of students involved in voluntary work outside university is also higher at FAU, where it is 64 percent, compared to 56 percent for students in Germany and 47 percent for students in Europe. An average of 73 percent of FAU students have already gained practical work experience – while the national average is 56 percent and the European average is 55 percent. The figures for the number of students who have completed an internship abroad are similar, with 56 percent of the FAU students surveyed saying they have done this – significantly higher than the 12 percent average for both Germany and Europe.
The survey
The market research institute Trendence surveys students once a year for the Engineering Edition of its Graduate Barometer. In 2016, over 12,000 students at 78 universities in Germany participated in the survey. 269 FAU students from the degree programmes in Mechanical Engineering, Mechatronics, and Industrial Engineering and Management took part.