Prof. Dr. Nicole Koschate-Fischer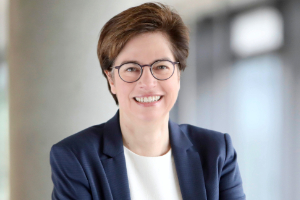 Curriculum vitae
Nicole Koschate-Fischer is a professor of marketing and holds the GfK Chair of Marketing Intelligence at the Friedrich-Alexander-University Erlangen-Nuremberg (FAU). She is speaker of the Institute for Marketing and the interdisciplinary research cluster "Customer Insights." She is also founding director of the Experimental Lab for Business Insights Nuremberg (ELAN) and head of the "Master in Marketing" program at the FAU School of Business, Economics, and Society. In addition, she is a full member of the Bavarian Academy of Sciences and a member of the Board of Academic Trustees of the Center for Advanced International Marketing Knowledge (AiMark).
Professor Koschate-Fischer holds master's degrees in business administration and psychology. She holds a PhD from the University of Mannheim where she also completed her habilitation. She was a member of the interdisciplinary Collaborative Research Center (SFB) Rationality Concepts, Decision Behavior, and Economic Modeling at the University of Mannheim. She completed several research stays as a visiting scholar at the University of Florida, Gainesville, and the University of Texas at Austin, USA. She has also been a visiting professor at the University of Vienna and at the Central University of Finance and Economics (CUFE) in Beijing, China. She has been offered professorships at the Technical University of Kaiserslautern and HEC, Paris.
Her areas of expertise are price and product management, customer behavior, marketing analytics, and the impact of digital transformation on marketing.
She regularly publishes in the leading international journals such as the Journal of Marketing, Journal of Marketing Research, and Journal of the Academy of Marketing Science. Her research projects are funded by the German Research Foundation (DFG) as well as other foundations.
Professor Koschate-Fischer is a member of the Editorial Board of the Journal of International Marketing and a reviewer for leading international scientific journals. She regularly contributes to scientific and practitioner-oriented conferences. In addition, she cooperates with renowned companies in various industries and leading institutions.
Recent publications
2023
2021
2020
2019
2018
2017
2016
Studiengangsleiterin des Master in Marketing