Prof. Dr. Sven Laumer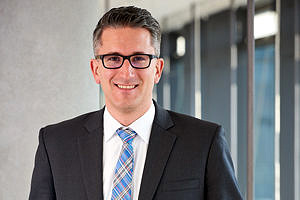 Schöller Endowed Professorship for Information Systems (Digitalization in Business and Society)
Curriculum vitae
Sven Laumer studied information systems at the University of Bamberg, Germany and the Institute of Technology, Tallaght, Dublin, Ireland from 2002-2007. After completing his studies he worked both as a research associate and as a senior research fellow at the Department of Information Systems and Services at the University of Bamberg, specializing in information systems in the service sector and was also assistant director of the Center of Human Resources Information Systems.
In 2014, he was a visiting scientist at the Cognitive User Experience Lab in the Watson Research Lab at IBM Research in Cambridge, USA. He received his doctorate in 2012 for his work on resistance to IT-related change. In 2017, he qualified to teach information systems at the University of Bamberg with his postdoctoral thesis "The Digitalization of Work and Life: Empirical Studies of its Bright and Dark Sides". He has been holder of the Schöller Endowed Professorship for Information Systems (Digitalization in Business and Society) at Friedrich-Alexander-Universität Erlangen-Nürnberg since 2018.
His research focuses on digital life and work and especially on:
The individual use of and overload caused by digital technologies (digitalization of the individual, the implications of the digital transformation on individual attitudes, behaviors, health and performance as well as addiction to technology and technostress in digital life and work)
The digital workforce (design of digital work systems, new forms and the future of work, virtual teams, digital HR management, e-recruiting, digital change management)
Digital business models and e-services (chatbots: opportunities, technologies, challenges and consequences for e-services).
For further information please visit the chair's website.
Recent publications
2022
2021
2020
2019
2018
2017
2016