Get to know the metropolitan region with FAU Volunteers for Internationals (FVI)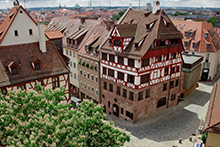 Trips promote exchange between international and German students
Every year around 4,000 students from all over the world come to FAU to benefit from excellent research opportunities and teaching. To maximise this positive experience for all, FAU Volunteers for Internationals (FVI) organise trips to the Franconian countryside, language meet-ups, hikes and much more during the entire academic year.
With much empathy for the 'Internationals'
FVI are a group of students who are dedicated to supporting international students and helping them to quickly settle in their adopted country. "It's important and helpful if there are people on the ground who help Internationals to make new connections and have a good time," explains Christina Schreml, who has been involved with FVI since 2015. Enjoying time together, is one of the Group's main goals. "Anyone interested can join us. Meanwhile, some international students are also part of the organisational team. There are no fixed positions, everyone can help where they best fit. Of course, everyone can also contribute their own ideas. We discuss it and try to implement as many of these as possible," says Christina.
Würzburg and Rothenburg ob der Tauber – Baroque splendour and medieval charm
Hira Mir, who was born in Pakistan and grew up in Saudi Arabia, is studying the International Masters in 'Physical Activity and Health' at FAU and joined an excursion to Würzburg with other foreign students. After a tour of the city – where famous sights such as the residence and the cathedral were not to be missed – Hira and the other students climbed up the hill to the Marienburg Fort and enjoyed the magnificent view of the old town and the Main river. "I liked the anecdotes about Würzburg, which the tour guide told us in English," says Hira enthusiastically. In addition to Würzburg, Hira has also participated in other FVI excursions. "I have learned about many different places and their history. Its great!" she says. Hira was also in Rothenburg ob der Tauber, a medieval city west of Nuremberg. Together with the other 'Internationals', she wandered through the narrow alleyways of the old town at Christmas time and was mesmerized by the Christmas market's romantic mood. Of course, a visit to Käthe Wohlfahrt – the Christmas decoration shop that's open all year round – was a must. El Mehdi Lemnaouar from Morocco, who studies a Masters in 'Communication and Multimedia Engineering', was also on the trip to Rothenburg. He was impressed by the Medieval Criminal Museum, but he liked the fact that he came into contact with other students via the excursion: "I have met a lot of new people. These relationships help me to settle in here and better find my way in German culture."
The German students who organise and participate in the excursions also benefit from this mutual exchange. As Christina Schreml says: "The trips I am most interested in enable me to meet so many different people from so many cultures. You see your home from a different perspective. "
The FAU Volunteers for Internationals provide information on current and planned activities on their Facebook page.
Image: Stadt Nürnberg, Birgit Fuder