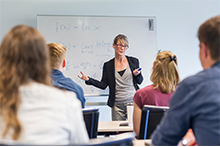 FAU development concept awarded 24 new professorships
With its commitment to supporting young researchers, FAU is strategically expanding its key research priorities, whilst at the same time giving up-and-coming young researchers the best possible opportunities for professional development. The Federal Ministry of Education and Research (BMBF) is now funding 24 new tenure track professorships at FAU. 'This success shows that we are on track towards establishing FAU as the university for the next generation of early career researchers,' says FAU President Prof. Dr. Joachim Hornegger.
As one of the most innovative universities in Germany, FAU offers the best possible conditions for young researchers. BMBF's decision to accept FAU's application for new professorships for young researchers in its entirety recognises FAU's commitment to supporting young researchers and also allows the existing FAU tenure track model to be expanded.
Open-topic tenure track professorships
With the FAU tenure track, the University has already evaluated its own programme of introducing performance-oriented talent development. The BMBF funding is now the next step in consolidating the system at FAU. 'Our strategy for supporting young researchers was key to our success,' says Hornegger. 'This allowed us once again to show our strength as an innovative university.'
The 24 new professorships allow FAU to further support young researchers and raises its profile as a research university. Each of the new tenure track professorships are part of the key research priorities at FAU. The areas of specialisation for the new professorships have deliberately not been specified. 'This allows us to attract the best young researchers in their fields to FAU, reinforcing our key research priorities with new approaches,' explains Hornegger.
Continuing to expand key research priorities
The tenure track professorships are distributed among six groups of professorships, each of which are allocated to one key research priority. The 'Future of Work' group deals with the development of the employment market and the business world, characterised by a unique multi-disciplinary approach in collaboration with the Institute for Employment Research (IAB) at the Federal Employment Agency.
The 'Digital Transformation' group belongs to the Electronic, Analytics and Digital Transformation key research priority, encompassing all five faculties. In 2017 alone, two new professorships focusing on digital transformation were created at FAU, one for information systems and one for medicine.
The 'Future Energy Systems' group promotes top talents in the field of energy systems. With the EAM Cluster of Excellence at FAU, the Bavarian Centre for Applied Energy Research, the Bavarian Technology Centre for Electrical Drives, the Energie Campus Nürnberg and the Helmholtz-Institut Erlangen-Nürnberg for Renewable Energy, researchers working in this key research priority at FAU enjoy the best possible working conditions.
The 'Human Rights' group is included within the FAU key research priority Cultural Values, Religions and Human Rights. Researchers in this key research priority are, among others, members of the Centre for Human Rights Erlangen-Nürnberg, partners in the Norwegian Centre for Human Rights and responsible for an emerging fields initiative on 'Human Rights in Healthcare'.
The 'Translational Health Research' group brings together medical and health research with young researchers creating small-scale models of cell structures, tissues and organs to gain a better understanding of the processes taking place within them through innovative, high resolution, molecular and quantitative analyses.
The 'Sensory Sciences' group is a collaboration between the key research priorities Electronics, Analytics and Digital Transformation and Medicine, Life Sciences and Health. This group is also advancing the important areas of audio, video and aroma research at FAU.
BMBF Tenure track programme
BMBF intends establishing a total of 1,000 additional tenure track professorships in its nationwide programme for supporting young researchers at German universities. The Federal Government is providing up to one billion euros for the programme, spread over two funding rounds between 2017 and 2032. In the first round, the BMBF has already approved a total of 468 professorships. The aim of the programme is to make it easier for young researchers to plan their path towards a professorship. With the tenure track professorship, researchers are directly entitled to a permanent position as a tenured professor after successfully completing their evaluation period.
Further information:
FAU Press Office
Phone: +49 9131 8570229
presse@fau.de