Prof. Dr. Laumer awarded with VHB Young Researcher Award 2018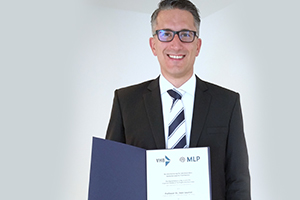 For his habilitation thesis "The Digitalization of Work and Life: Empirical Studies of its Bright and Dark Sides", written at the Otto-Friedrich-University Bamberg, Prof. Dr. Laumer, Schöller Endowed Professorship for Information Systems (Digitalization in Business and Society), has been awarded with the VHB Young Researcher Award 2018. The presentation of the award took place during the gala dinner of the annual conference of the VHB.
Laumer's research focuses on digital work and life and in particular on the individual use of and overload by digital technologies. He focuses on the digital workforce and especially on the design of digital work systems and the future of work. Very specific research questions concern the opportunities and challenges of text-based dialogue systems ("chatbots").
The cumulative habilitation thesis consists of seven papers classified as A by the VHB JOURQUAL journal rating and five papers classified as B. The relevance of the articles is also indicated by the citation numbers in Google Scholar.
The VHB Young Research Award is awarded annually by the German Academic Association for Business Research (VHB) to younger members of the association. With this award, the association acknowledges the commitment of young researchers to present their research to the international community.
Further information can be found on the website of the VHB.