Future made in Bavaria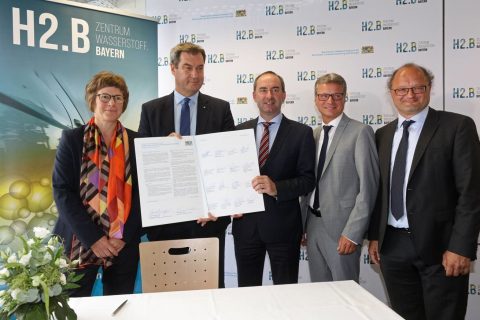 WiSo/FAU professor Grimm and FAU professor Wasserscheid are coordinating the development of a Bavarian hydrogen strategy
Hydrogen is a highly promising energy source. As the most common element on Earth, it has the potential as a fuel and in energy storage to transform the energy supply in mobility and industry in a climate-friendly way. Through Energie Campus Nürnberg (EnCN), Friedrich-Alexander-Universität Erlangen-Nürnberg (FAU) and other research institutions have already established a leading position in developing innovative technology for the hydrogen economy. The Bavarian state government has established the Bavarian Hydrogen Centre (H2.B) at EnCN, with the task of developing and implementing a Bavarian hydrogen strategy. Prof. Dr. Veronika Grimm and Prof. Dr. Peter Wasserscheid from FAU will direct the new Centre. The inauguration event was held on 5 September at EnCN in Nuremberg, where the H2.B offices will be located.
Promoting the use of hydrogen in mobility throughout Bavaria
H2.B brings together industry, science and politics to deliver momentum to the hydrogen economy, in particular in promoting the use of hydrogen in mobility throughout Bavaria and a wide adoption of hydrogen in practical applications. At the H2.B inauguration, the Bavarian government also established a Hydrogen Council with members that are key stakeholders in the Bavarian hydrogen economy. H2.B and its partners are tasked with drawing up a hydrogen strategy within a demanding time frame in cooperation with the Bavarian government. Demonstration projects targeting specific fields of action will have a significant role from the outset. Research findings from these projects can be transferred immediately, expediting the development of a hydrogen economy at scale.
Bavarian Minister President Dr. Markus Söder confirms: 'Bavaria is at the forefront of green technology. We recognise the priorities of economic growth and protecting our climate equally. The Bavarian Hydrogen Centre will lead the way in hydrogen technology from research to commercial applications. We are acting today to direct the future through innovation and progress.' During the inauguration event, Söder stated the intention of the Bavarian government to invest millions of euros in the research and development of hydrogen technology. This investment will not just benefit the H2.B, it will also strengthen research infrastructure in the region. In this context, Söder announced that the Bavarian government will soon be investing 300 million euros in the new buildings for the Department of Chemistry at FAU, where researchers are intensively investigating hydrogen technology and future energy systems.
Bavarian Minister of Economic Affairs, Hubert Aiwanger, emphasises how important it is for Bavaria to be in the driving seat of energy technology rather than being left behind in the tail lights. 'Hydrogen is key to energy transformation. Our goal is to expedite the application of hydrogen technology in Bavaria and beyond. We want to close the gap between the laboratory and the roads. Setting up the Bavarian Hydrogen Centre (H2.B) is a major step towards achieving this. Collaborating with partners from industry in Bavaria is of particular importance, which is why we have formed the Bavarian Hydrogen Council today, in addition to setting up the H2.B. We have already gained strong partners for the Bavarian Hydrogen Council and more will follow. This is part of our strategy to position Bavaria as a top location and leading force in the industrial production of hydrogen technology.'
Bavarian Science Minister, Bernd Silber, explains the significant role of existing research infrastructure for the H2.B: 'There are many respected scientists and experts working in energy-related fields, particularly hydrogen technology, who are already based in Erlangen and Nuremberg. FAU in particular will bring its outstanding expertise to the H2.B and is a key stakeholder in developing a Bavarian hydrogen strategy.'
Directors of the Bavarian Hydrogen Centre: Prof. Dr. Veronika Grimm and Prof. Dr. Peter Wasserscheid from FAU
The directors of the new H2.B, Prof. Dr. Veronika Grimm and Prof. Dr. Peter Wasserscheid, have already been involved in energy research at EnCN for quite some time. Grimm holds the Chair of Economic Theory at FAU and is Head of the Scientific Board at EnCN. Wasserscheid holds the Chair of Chemical Reaction Engineering at FAU and is also the director of HI ERN.
'Hydrogen technology is a key aspect of transforming our energy system and reaching our ambitious climate targets. Business models of individual organisations can only succeed through cooperation with others. This is why the coordination of activities is important and the right thing to do,' says Prof. Dr. Veronika Grimm. 'FAU, Fraunhofer, TH Nürnberg and HI ERN have cooperated in applied energy research at EnCN for a long time. In this respect, the location of H2.B at this site is a logical development.'
'The hydrogen economy of the future consists of green and cost effective sources of hydrogen delivered to valuable applications in mobility or industrial sectors through efficient logistics channels,' explains Prof. Dr. Peter Wasserscheid. 'Research and framework conditions have developed dynamically in recent years so that we can say with relative certainty that hydrogen technology will play a key role in successful energy transformation in Germany and around the world. Now we need to push the intensive research and development work forward required to accelerate the implementation of hydrogen technology in practical applications.'
Members of the Bavarian Hydrogen Council
The members of the Bavarian Hydrogen Council are: Audi AG, Bayernoil Raffineriegesellschaft mbH, Bayernwerk AG, BayWa AG / BayWa r.e. renewable energy GmbH, BMW AG, ESTW – Erlanger Stadtwerke AG, H2 Mobility Deutschland GmbH & Co. KG, Helmholtz-Institut Erlangen-Nürnberg für Erneuerbare Energien, Hydrogenious LOHC Technologies GmbH, Linde plc, MAN Energy Solutions SE, MAN Truck & Bus SE, NürnbergMesse GmbH, Robert Bosch GmbH, Schaeffler Technologies & Co. KG and Siemens AG.
Open for partnerships
Members of the Bavarian Hydrogen Council are committed to strengthening and advancing the technology leadership of Bavaria in the field of innovative hydrogen technology and supporting the activities of the Bavarian Hydrogen Centre. The Council is open to further partnerships with organisations pivotal to the success of the hydrogen economy. Enquiries from prospective partners can be made via the Centre's website. www.h2.bayern.
Further information:
Prof. Dr. Veronika Grimm
Phone: +49 911 5302 9229
veronika.grimm@fau.de