Welcome to the winter semester 2021/22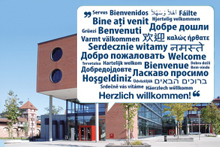 The lecture period begins today and the Nuremberg School of Business, Economics and Society (WiSo) therefore wishes you a successful winter semester 2021/2022 and all first-year students a good start to their studies!
At FAU and WiSo Nuremberg, attendance will finally be resumed. Because teaching, learning and research need direct exchange, the personal encounter of students, the contact with teachers. The new hygiene concept for Bavarian universities, which allows life on campus again with the "3G rule", makes it possible for students to be present. The framework conditions apply to teaching can be found on the Corona website. WiSo would like to thank you in advance for your support by behaving responsibly and abiding by the rules in place.
WiSo invites all students starting a Bachelor's or Master's program at WiSo again to the official first semester welcome today – this time as a hybrid event, in German as well as English. Higher semesters are of course also invited if they are interested! In the afternoon, the inner courtyard of WiSo Nuremberg attracts with beer garden feeling incl. free pretzels and drinks as well as city tours as part of the mentor program. Here, students can finally get to know the city and WiSo better live. Master students will also have their individual greetings on this afternoon. In addition, the popular WiSo first semester bags will be handed out. In the evening, the student councils and initiatives invite you to the big get-to-know-you party at Mach1.
All information about the welcome event can be found at www.studystart.wiso.fau.eu. The digital part of the welcome will also take place on this website.
In addition, important dates and links are summarized here. In this context, please also note that WiSo Nuremberg additionally provides important and interesting topics for you on its Website, Facebook, Twitter, Instagram and its own WiSo-Blog.
WiSo wishes all students a good start at WiSo in Nuremberg!