Tram in FAU design
There is a new eye-catcher in Nuremberg city. A tram boasting the new FAU design will be on the tracks in Nuremberg from Saturday, April 2. Prof. Dr. Joachim Hornegger, FAU President, says: "We at FAU want to increase our exposure in Nuremberg and remind people every day of the cutting-edge university that has been at home in their city for years now."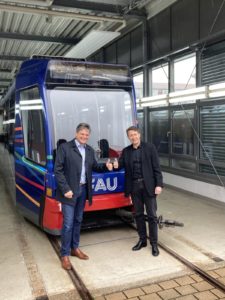 FAU's main locations are in Erlangen and Nuremberg. Nuremberg is home to the FAU's School of Business, Economics and Society and the Department of Education. In addition, at the former AEG premises in the West of Nuremberg there are several chairs from the Faculty of Engineering as well as part of the Helmholtz Institute Erlangen-Nürnberg for Renewable Energy, Energie Campus Nürnberg, the Nuremberg Campus of Technology (NCT) and the Bavarian Hydrogen Center, all institutions in which FAU is very involved.
The design for the tram symbolizes all five faculties at FAU and bears the University's motto "Moving knowledge. FAU (Wissen bewegen. FAU)." It was designed by the well-known designer from Hamburg Claus Koch, who devised the concept for FAU's new corporate identity as a whole.
Into the future with a new strategy
We talked to FAU President Prof. Dr. Joachim Hornegger and international brand developer Claus Koch.