Grants from the Oskar Karl Forster scholarship fund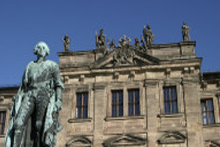 FAU will again be awarding one-off grants from the Oskar Karl Forster scholarship fund during the 2022 academic year. Grants are available to gifted students in financial need who can apply for one-off grants to purchase books or other study materials (e.g. laptops, tablets; but no cell phones) as well as assistance with printing costs for doctoral theses.
All FAU students who have completed their first semester and who receive BAföG can apply, as can students for whom the current monthly net income of those obliged to pay maintenance for the student is lower than double the parental income threshold for BAföG. Students who have already received financial assistance from the Oskar Karl Forster scholarship fund may not re-apply for a second grant. Doctoral candidates applying for assistance with the printing costs of their doctoral thesis must be enrolled at FAU.
The amount of assistance available is at least 100 EUR up to a maximum of 500 EUR. The maximum amount awarded can be reduced to take a higher number of applications into consideration. Signed receipts must be provided for purchases made with a grant from the fund that clearly show the date of purchase and the title of the work. Only purchases made between 1 April 2022 and 30 September 2022 can be taken into account. Applications can be made online only at.
Applications must be submitted by 16 August 2022. If you have any questions or comments, please contact us at:
More Information
Office L4
Office of Admission and Scholarships
Phone: +49 9131 85-24075
E-mail: support-stipendien@fau.de