University elections at FAU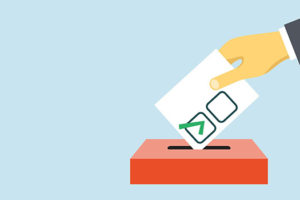 Until Monday, July 4 2022, 9 a.m., university elections will be held at FAU. Representatives will be elected to the Senate, the five Faculty Councils, the Appeals Council for the Department of Theology, and the Student Convention of Friedrich-Alexander-Universität Erlangen-Nürnberg. They form the basis of academic self-government. The electronic polling station can be accessed at any time during the election period via the following link: FAU Election Portal.
Election of the Doctoral Student Council 2022
Parallel to the general university elections, the election of the Doctoral Student Council will again take place, in which the doctoral students in each faculty elect a spokesperson. All doctoral students who are registered in the electronic doctoral student directory "docDaten" (docdaten.fau.de) are eligible to vote. The doctoral election is conducted exclusively as an electronic election. The election notifications can also be accessed via the election portal online-wahlen.fau.de. During the election period, access to the electronic voting room is unlocked via the election portal.
Why should I vote?
Quite clearly: As many students as possible should cast their vote and thus decide who will represent them in the respective student representatives as well as in the Student Convention.
All information about the university elections and the work of the committees to be elected can be found on the pages of the Election Office at www.wahlen.fau.de, on the pages of the Promovierendenkonvent at blogs.fau.de/proko, and on the pages of the Student Council at stuve.fau.de/wahlen.
FAU Election Office
Schlossplatz 4, 91054 Erlangen
Christian Bartels 0174 4814940
Sonja Vaask 0174 5808781