Welcome to the winter semester 2022/23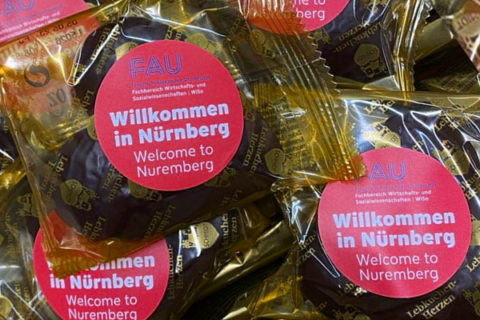 The lecture period begins today and the Nuremberg School of Business, Economics and Society (WiSo) therefore wishes you a successful winter semester 2022/2023 and all first-year students a good start to their studies!
WiSo invites all students starting a Bachelor's or Master's program at WiSo again to the official first semester welcome on Monday, October 17, 2022 in German as well as English. Higher semesters are of course also invited if they are interested! In this context, the school management and the City of Nuremberg will welcome the new Bachelor students starting at 8:00 a.m. In addition, the representatives of the service institutions will introduce themselves. International students will be welcomed together beginning at 9:15 a.m. Starting at 10:30 a.m., the welcoming of the new Master students will begin. In addition, specific introductory events for the individual degree programs will take place. At the information fair more than 30 institutions and initiatives of the school as well as regional and national companies will present themselves from 10:00 to 13:00 a.m. In the afternoon, the inner courtyard of WiSo Nuremberg attracts with beer garden feeling incl. free pretzels and drinks as well as city tours. Master students will also have their individual greetings on this afternoon. In addition, the popular WiSo first semester bags will be handed out. In the evening, the student councils and initiatives invite you to the big get-to-know-you party at Mach1.
All information about the welcome event can be found at www.studienstart.wiso.fau.de/en.
For the start of the semester, we also recommend our study guide "Studying". This guide will tell you all you need to know about studying at WiSo. In addition, important dates are summarized here. In this context, please also note that WiSo Nuremberg additionally provides important and interesting topics for you on its Website, Facebook, Twitter, Instagram, LinkedIn and its own WiSo-Blog.
—————————————————————————————————————————————-
Important dates of the semester
17.10.2022
Start of the lecture period in the winter semester 2022/2023
Semester welcome at WiSo
More info at: www.studienstart.wiso.fau.de/en
26.10.2022
Start of the seminars of the Career Service of WiSo
Further information/registration at: www.career.wiso.fau.de
03.11.2022
Information event on the WiSo-Coach program for Master's students
Further info at: www.career.wiso.fau.de
04.11.2022
Dies academicus 2022: FAU Foundation Day
Further info at: www.fau.de/dies-academicus
09.11.2022
Digital International Day at WiSo
More info at: www.wiso-international-day.fau.de
21.11.2022 – 11.12.2022
Registration period for exams in winter semester 2022/2023
02.12.2022
Graduation ceremony at WiSo
Further info/registration at: www.absolventenfeier.wiso.fau.de
01.02. – 08.02.2023
Re-registration for the summer semester 2023
Further info at: www.fau.de/semestertermine
10.02.2023
End of lectures winter semester 2022/23
17.04.2023
Start of lectures summer semester 2023
—————————————————————————————————————————————-
WiSo wishes all students a good start at WiSo in Nuremberg!