Welcome to the winter semester 2023/24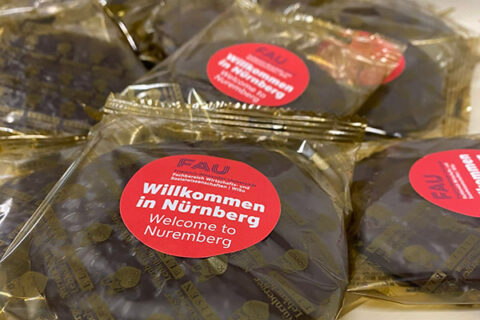 Welcome to the opening of the 2023/24 winter semester at the Department of Business, Economics and Social Sciences (FAU WiSo) at the Friedrich-Alexander University Erlangen-Nuremberg! FAU WiSo is looking forward to welcoming all new and old students and to accompanying them on their academic path.
For the start of the semester, we also recommend our study guide "Studying". This guide will tell you all you need to know about studying at FAU WiSo. In addition, important dates are summarized here. In this context, please also note that WiSo Nuremberg additionally provides important and interesting topics for you on its Website, Facebook, Twitter, Instagram and LinkedIn.
Important dates of the semester
16.10.2023
Start of lectures winter semester 2023/24
Welcome event for all international programs Bachelor and Master at 9.15 a.m. in H5/H6.

21.10.2023
Long Night of Science 2023 at the FAU WiSo
Lange Gasse 20, 5 p.m. to 12 p.m.
Further Information: https://nacht-der-wissenschaften.de/
20.11.2023, 00:01 a.m. – 10.12.2023, 12:00 p.m.
Registration period for exams in the winter semester 2023/24
28.11.2023
#NUElecture: Prof. Dr. Adrian Meier, junior professor of communication studies,
New Museum Nuremberg, Luitpoldstraße 5, Nuremberg
7 p.m. to 8.30 p.m.
Further information: www.nuelecture.de
30.11.2023
#NUEdialog: Das Steuerwesen der Zukunft: Wie kann es digital, nachhaltig und fair gestaltet werden?
FAU WiSo, Lange Gasse 20, Nuremberg
Further information: www.nuedialog.de
08.12.2023
Graduation ceremony at WiSo Nuremberg
Lange Gasse 20, H4 and inner courtyard, Nuremberg
2.30 p.m. to 5.30 p.m.
Further information/registration at: www.wiso-absolventenfeier.de
01.02.- 09.02.2024
Re-registration for the summer semester 2024
Further information at: www.fau.de/semestertermine
09.02.2024
End of lectures winter semester 2023/24
15.04.2024
Start of lectures and studies, summer semester 2024
FAU WiSo wishes all students a successful winter semester 2023/2024!