Student Ambassadors Nürnberg
Student Ambassadors Nürnberg
Student Ambassadors are students of the School of Business, Economics and Society who represent us at a partner university during a study abroad semester, or they are exchange students from partner universities that go back to their home universities and tell about our School.
The Student Ambassadors are knowledgeable about the School, the city of Nürnberg and the region. They are able to tell prospective exchange students coming to Nürnberg about daily life and logistics in the city and at university. Also, they´ll be able to serve as a first contact point for new exchange students.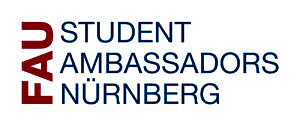 Student Ambassadors are provided with recognizable wearables and useful items: a FAU notepad, an Ambassador T-shirt, a bag, pens and a USB flash drive with a presentation about the School. If any additional materials are needed to talk about the School at the partner university, we will send them their way.
The first FAU Student Ambassadors Nürnberg were appointed in the summer semester of 2019.