Re-registering for summer semester 2020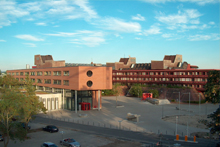 All students have to re-register for the coming summer semester between 3 and 10 February 2020. All you need to do is go to mein campus and print off the bank transfer form available under 'Studienkanzlei aktuell' or pay the semester fee online (118 euros for summer semester 2020).
All current dates for re-registering and other important dates relating to the semesters are available at all times at www.fau.de/education/studienorganisation/semestertermine.