Are you familiar with FAU's magazines?
Read online or order free of charge
FAU publishes three magazines – 'friedrich' is the magazine all about research, 'alexander' is the University magazine and 'frisch!' is aimed at new students. Copies of each magazine are available at various locations around the University. You can also read several articles online. Or you can even request 'friedrich' or 'alexander' to be delivered to your home address or to your workplace.
friedrich – FAU's research magazine
'friedrich' is published once a year and always focuses on one particular topic. This year's issue deals with all things hidden – objects too small for the naked eye to see or things we have lost sight of. It also looks at things we don't want to look at: taboos.
Download the PDF version of friedrich No. 119
---
alexander – the latest news from FAU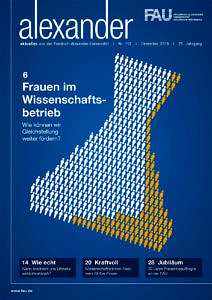 'alexander' is the magazine about everything that's currently going on at FAU. It's published three times a year. The current issue looks at promoting gender equality in research, a network for female researchers and 30 years of women's representatives at FAU.
Download the PDF version of alexander No. 112
---
frisch! an der FAU – a guide for new students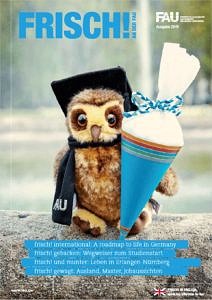 Our magazine 'frisch! an der FAU' can tell you (almost) everything first year students need to know about life at FAU. Students receive a copy when they enrol.