Wunschkonzert – headliners have been confirmed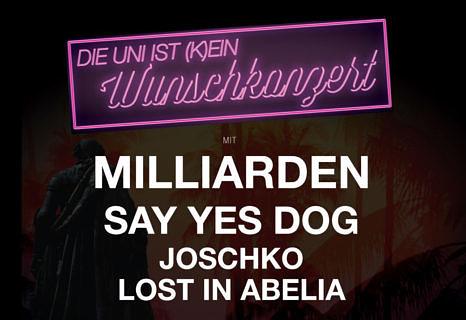 Friday 24 April 2020 at E-Werk in Erlangen
The FAU Wunschkonzert where staff and students decide who gets to play will return to the stage in spring 2020. Two student bands, two headline acts and a party to remember – exclusively for students and staff at FAU.
Milliarden and Say Yes Dog
We received a large number of good suggestions for both the headliner slots via e-mail and social media, and we can now announce that 'Milliarden' and 'Say Yes Dog' have been confirmed as the headliners for FAU's Wunschkonzert. In addition, two supporting acts where some of the band members are FAU students will be playing on April 24 – 'Joschko' and 'Lost in Abelia'. They gained the most votes in the FAU poll.
Videos and tickets
Videos of the bands are available online on the Wunschkonzert website at www.wunschkonzert.fau.de.