Decision has been made about start of the summer semester 2020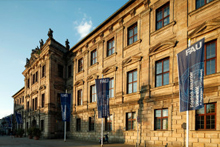 The lecture period in the summer semester 2020 will definitely start on 20 April 2020. It will not be shortened and it will not be a 'zero semester'. The summer semester 2020 will count as a regular semester under exceptional conditions, with special arrangements in place.
Lectures and classes can initially only be held online until the coronavirus pandemic is contained to such an extent that the Bavarian state government can allow face-to-face teaching again.
We will take steps to ensure that any delays in study progress do not cause any disadvantage to the students concerned. The Bavarian universities will also work to ensure that nationwide regulations for the welfare of students (BaföG, health insurance, child benefit, etc.) apply.
All information, including the status of examinations, is available at: www.fau.info/corona
---
FAU has set up an information page: www.fau.info/corona