Welcome to the virtual summer semester 2020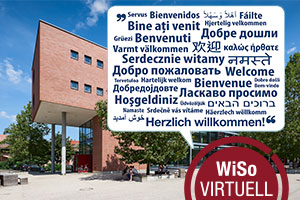 The lecture period has begun and the WiSo welcomes its students in the new, this time digital semester #WiSoVirtuell. In addition, of course, the newly enrolled students in the 1st master semester. We wish everyone a good start into the virtual semester 2020!
To welcome you visually, you can find a video message by the dean for international affairs in English and by the speaker and dean of WiSo Nürnberg in German below.
We would like to welcome you to an extraordinary semester – a semester like no other in over 100 years of our faculty's history. A semester caught between social responsibility, continuing distancing and hygiene measures, and our high standards of providing a professional study experience. A semester that, based on current information, needs to be conducted with as little social interaction as possible – without having lunch together, without coffee breaks in our cafeteria, without studying in the libraries, without on-site lectures in our lecture halls. This is an enormous challenge for us all… or possibly a chance?
We have managed to organize this semester in a way that allows us to make our contribution to flatten-the-curve and simultaneously ensure your virtual study program. We regard the current situation not only as a crisis, but as a challenge to maintain university teaching. We regard this situation as a chance to try out new things, to deepen existing competencies and to build new ones. Therefore, we would like to encourage you to adopt this mindset. In order to support you in doing so, we have developed #WiSo-Virtuell2020. Visit www.wiso-virtuell-2020.de for comprehensive information on the current status and for support in implementing the arising opportunities.