Virtual summer term: Exams and student initiatives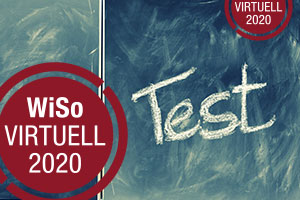 Unfortunately, we are not able to make a statement how the current situation will affect the exams of your courses at the end of the summer term at this point in time. Kindly note that the module handbook, which will be published on 18.05.2020, will contain information on the nature of changes regarding your examinations. Further details concerning the arrangement of examinations are currently being discussed. We kindly ask for your patience with regard to this matter. We will inform you extensively in due time.
Furthermore, the Corona situation affects students' everyday lives and the organization of voluntary student initiatives. There are many volunteer activities on campus, especially in summer term when university elections take place and a large variety of activities in the open air are organized by students.
With WiSo-Virtuell2020, we would like to give student initiatives the opportunity to inform other students on their altered virtual program during the semester. For further information, student initiatives are welcome to get in touch via e-mail to wiso-vituell2020@fau.de.