Back to life on campus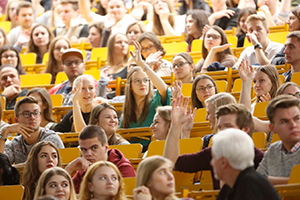 The lecture period for winter semester 2021/22 will start soon and FAU is returning to face-to-face teaching. This is being made possible by the '3G rule' in the new general hygiene guidance for universities in Bavaria, which allows teaching to take place on campus.
'3G rule'
Proof of Covid-19 vaccination, testing or recovery (3G rule) is required at FAU. Only students who have been vaccinated, tested or who have recovered from Covid-19 may participate in classes on campus. Keeping a minimum distance of 1.5 metres is no longer necessary, however, surgical masks must be worn. Contact tracing is still required for every room and by means of a QR code.
For information on specific classes, please refer to the information in UnivIS, which lists the confirmed format in which your classes are being taught (face-to-face, hybrid or online). Link to UnivIS
'restart – willkommen zurück' project
FAU is offering support to its students in finding their feet again on campus with the 'restart – willkommen zurück' initiative. On the one hand, we will be holding faculty lunches where students can get to know each other and teaching staff and resume their academic collaboration and student life. On the other, we will have assistants available during hybrid classes, who will be taking care of the technical side of things and offering support to students taking part online. And our corona scouts will serve as the interface between students who cannot return to face-to-face teaching and their lecturers.
Any questions?
FAU will do everything it can to make sure all its students can return to studying without any restrictions, including those students who cannot return to the University due to travel restrictions in their home country, who are in a high-risk group or who are faced with other constraints. Please ask teaching staff if you need help.