Batch 4 of the LDT program at FAU WiSo – Visit of the Consul General of India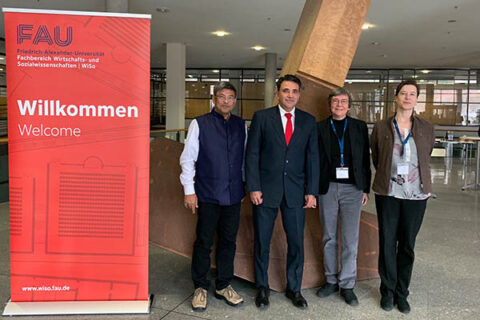 Batch 4 of the executive teaching program Leading Digital Transformation (LDT), jointly organized by FAU Erlangen-Nürnberg, the Indian Institute of Management (IIMB), and the Fraunhofer Institute for Integrated Circuits IIS, has recently concluded its second module in Nuremberg, also at FAU WiSo.
After two long years of pandemic-related restrictions, participants finally had the chance to travel and enjoy a week-long session together in Nuremberg. The second module of the program was jam-packed with fascinating sessions and exciting visits to some of the most innovative places in the city.
The program kicked off with a warm greeting and Q&A session led by Consul General Mohit Yadav, Consul General of India in Munich. This was followed by an incredible series of sessions held at the prestigious School of Business, Economics and Society (WiSo) and the renowned Fraunhofer IIS. But that's not all – participants also had the opportunity to the most exciting startup incubator and innovation hub in the region, such as Zollhof Tech Startup Incubator, Siemens Amberg, and JOSEPHS – the Open Innovation Laboratory.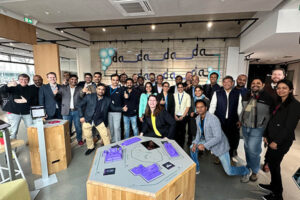 As the global marketplace becomes more data-driven than ever before, the competition is heating up and innovation is playing an increasingly crucial role. During the week, participants tackled some of the hottest topics in the field, including open innovation, the individual side of digital transformation, and digital value proposition.
With innovative technologies like the Internet of Things, data analytics, and blockchain driving change at lightning speed, it's more important than ever to have a deep understanding of the technologies and aspects that are transforming organizations, and the leadership skills to guide this organizational transformation.
By staying ahead of the curve and mastering these critical skills, participants in the program are poised to lead the way in the exciting and ever-evolving world of digital transformation.
Further information about the LDT program can be found here.
Comments of the participants
"I was part of Batch 3 of the Leading Digital Transformation Program conducted in 2020.  Given the global travel restriction, at the time, our German module was conducted entirely online.  Three years ago, after successfully completing the program, I approached my work with a fresh perspective and tried my best to incorporate the learnings into the day-to-day activities of work.  Three years later, when I was given the opportunity to attend the German module, in in-person, I was ecstatic.  Attending the program, in in-person, has provided newer perspectives about driving digital transformation and organizational change.  A combination of the earlier acquired knowledge and the recent immersion program has renewed my zeal for continuous learning which would have not been possible without the industrial visits and direct interactions with key stakeholders of the IIMB-FAU LDT ecosystem." – Vinay Bharadwaj
"Very happy to be part of the activities at FAU Erlangen-Nürnberg as part of the Leading Digital Transformation program by the Indian Institute of Management Bangalore. Greatly overwhelmed by the exchange of information from experienced professors and industry leaders. The opportunity to experience factory automation at Siemens Amberg helped to understand the implementation of Industry 4.0. The visit to JOSEPHS gave insights into how an open innovation laboratory functions. My sincere thanks for the hospitality offered to us by FAU during our stay in Germany. It was indeed an excellent value creation program." – Anupama Korath
"The LDT program created and conducted by Top institutes IIM Bangalore, FAU Erlangen – Nürnberg, and Fraunhofer IIS is one of the best courses on Digital Transformation. Experience and learning during our visit to FAU Erlangen – Nürnberg added immense value. Thanks to extremely value providing sessions and workshops conducted by Prof. Dr. Alexander Pflaum, Prof. Dr. Sven Laumer, Matthäus Wilga, Prof. Dr. Andreas Harth, and Sascha Julian Oks covering various facets of digital transformation, open Innovation, people aspects, Industry 4.0, artificial intelligence including case studies and business modeling. Visits to Tech incubator ZOLLHOF, Siemens smart factory at Amberg, and open innovation at JOSEPHS showcased real digital transformation, the experience gained is incredible. Thanks to FAU Erlangen – Nümberg and IIMB for providing us the opportunity to interact with Mr. Mohit Yadav – Consul General of India in Munich, and hear from him about the current situation of the cooperation between India and Germany." – Amit Choudhury