Delegation Tsinghua Siemens Digital Transformation Leadership program
How knowledge and innovation coming together break barriers and show the way for digital transformation
FAU and the Siemens RIE Erlangen-Nuremberg had the honour to host a delegation of the "Tsinghua Siemens Digital Transformation Leadership program" on Wednesday, 25th of October. With the Siemens Research and Innovation Ecosystem program, Siemens supports long-term partnerships with renowned universities to collaborate on important research topics – with two of the universities being FAU and Tsinghua University.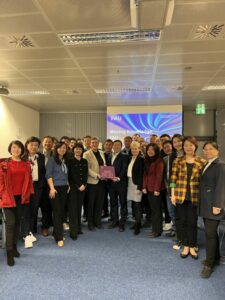 During their FAU WiSo visit, the delegation had the chance to participate in enlightening keynote presentations delivered by esteemed experts, including Prof. Dr. Kathrin M. Möslein (Vice President Outreach, FAU), Dr. Natascha Eckert (Global Head of University Relations, Siemens AG) and Nils Thielen (Director of Research Sector Electronics Production, FAU). These sessions provided a valuable platform for engaging in insightful discussions about fostering innovation through the establishment of connections across various levels, including internal, regional, national, European, and global. The discussions also delved into the mission and ambitions of EELISA European University, and an in-depth exploration of FAU's chair FAPS through an impressive virtual lab tour.
"By hosting this delegation, we saw how knowledge and innovation coming together break barriers and show the way for digital transformation. The lively exchange of ideas between Tsinghua University, Siemens, and FAU will shape the future of innovation and technology." – Prof. Dr. Kathrin M. Möslein
Special thanks to Professor Jizhen Li, Director of the Research Center for Competitive Dynamics and Innovation Strategy and Associate Director of the Research Center for Technological Innovation at Tsinghua University, for the insights, learning and fruitful exchange. FAU and Siemens RIE Erlangen-Nuremberg were delighted to host the delegation and extend warm wishes for an enjoyable time in Germany.