Research focus areas
Eight unique research areas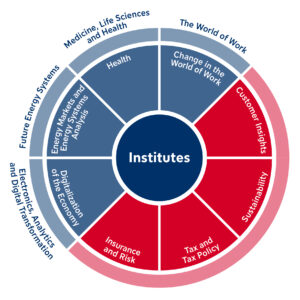 The School has eight key research areas that focus on important current issues, draw on the expertise of researchers from a wide range of fields, and have excellent networks of connections with other leading research institutions and regional partners from industry.
Four of these areas reflect unique strengths in particular areas of business, economics and the social sciences in which research is conducted by specific subjects within the School. The four remaining areas are highly interdisciplinary, and have close links to other faculties and research areas at the University.
Subject-specific research areas
Customer Insights
Research area: Customer Insights
Gaining theoretical and practical insights into customer decisions (customer insights) is the main focus of this research area. The aim is to study questions relating to customer decisions in an expert interdisciplinary research group using cutting-edge research methods.
In addition to institutional conditions, key focuses are on determining the psychological and economic factors that influence customer decisions, and analyzing the effect that customer decisions have on a company's success.
Tax and Tax Policy
Research area: Tax and Tax Policy
The research area 'Tax and Tax Policy' focuses on analyzing the decisions made by taxpayers, with particular consideration of measures for reducing tax avoidance and tax evasion. Another topic that is investigated is how those involved in tax administration can increase taxpayers' willingness to co-operate.
The research conducted in this area connects questions in microeconomics and macroeconomics with institutional approaches. In this area, the School places particular importance on empirical research based on microdata that is used to analyze quasi-experiments, field experiments and experimental research conducted in the laboratory.
Insurance and Risk
Research area: Insurance and Risk
This interdisciplinary research area looks at topics in the field of insurance and risk in the areas of private insurance (insurance and risk management, insurance marketing, insurance law, private health insurance, asset management) and social security (unemployment insurance, statutory health insurance, pension insurance). These topics are often influenced by megatrends and are incredibly important for society.
Sustainability
Research area: Sustainability
The research focus area 'sustainability' combines the various dimensions of sustainability and places a special focus on the transformation of the economy, companies, and society. In five clusters, it addresses climate change mitigation and climate action, impact innovation and entrepreneurship, circular value networks, ESG finance and reporting, and the field of ethics, human rights, and digital responsibility. The interdisciplinary research area works across disciplines and in exchange with practitioners to understand and shape sustainable development.
Interdisciplinary research areas
Change in the World of Work
Research area: Change in the World of Work
Researchers working in this area use approaches from economics, sociology and psychology to study how the labor market and the world of work are affected by global developments – such as increased international division of work, increasing migration, and demographic, technological and organizational change – and how politics can react to them. The focus of this work is on atypical employment (such as agency work or solo self-employment), institutional frameworks (e.g. labor law), training and professional development, changing requirements for work, labor mobility, and wage differences and wage developments.
Digitalization and Innovation
Research area: Digitalization and Innovation
The research area 'Digitalization and Innovation' focuses on describing, explaining, designing and evaluating fundamental changes and sustainable innovations in products, processes, services, business models and governance mechanisms based on digital technology. Researchers use methods that are focused on design and, in addition to traditional research methods from behavioral science, place particular important on construction-oriented research approaches. For this reason, in addition to publishing research findings, systematically designing artefacts is an important part of the work carried out by researchers in this area.
Energy Markets and Energy Systems Analysis
Research area: Energy Markets and Energy Systems Analysis
This research area looks at the influences of the economic, political and social environment on the development of the energy system. Its focuses are analyzing the effect of market design and regulation on incentives for investment and business models in the electricity and gas sector and conducting empirical studies on the acceptance of the transformation of the energy system and on the general public's participation in the implementation. The Energy Markets and Energy Systems Analysis group at the School of Business and Economics combines approaches from economics, business and law, and collaborates closely with mathematicians and engineers at FAU through Energie Campus Nürnberg (EnCN).
Health
Research area: Health
The aim of the research area 'Health' is to increase knowledge and find ways of applying it constructively in practice. Business research conducted on the management of cost-bearing institutions, health services, hospitals and pharmaceuticals is as much of a focus as economic research in areas such as evaluation. A key part of this is measuring the outcomes of health measures, as simple cost analysis is not enough. For this reason, qualitative effects of health services play a significant role for all aspects that are considered.