Research focus areas
Seven unique research areas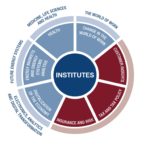 The School has seven key research areas that focus on important current issues, draw on the expertise of researchers from a wide range of fields, and have excellent networks of connections with other leading research institutions and regional partners from industry.
Three of these areas reflect unique strengths in particular areas of business, economics and the social sciences in which research is conducted by specific subjects within the School. The four remaining areas are highly interdisciplinary, and have close links to other faculties and research areas at the University.
Subject-specific research areas
Research area: Customer Insights
Gaining theoretical and practical insights into customer decisions (customer insights) is the main focus of this research area. The aim is to study questions relating to customer decisions in an expert interdisciplinary research group using cutting-edge research methods.
In addition to institutional conditions, key focuses are on determining the psychological and economic factors that influence customer decisions, and analyzing the effect that customer decisions have on a company's success.
Research area: Tax and Tax Policy
The research area 'Tax and Tax Policy' focuses on analyzing the decisions made by taxpayers, with particular consideration of measures for reducing tax avoidance and tax evasion. Another topic that is investigated is how those involved in tax administration can increase taxpayers' willingness to co-operate.
The research conducted in this area connects questions in microeconomics and macroeconomics with institutional approaches. In this area, the School places particular importance on empirical research based on microdata that is used to analyze quasi-experiments, field experiments and experimental research conducted in the laboratory.
Research area: Insurance and Risk
This interdisciplinary research area looks at topics in the field of insurance and risk in the areas of private insurance (insurance and risk management, insurance marketing, insurance law, private health insurance, asset management) and social security (unemployment insurance, statutory health insurance, pension insurance). These topics are often influenced by megatrends and are incredibly important for society.
Interdisciplinary research areas