First-year student's welcome event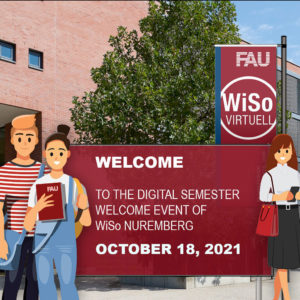 Welcoming new students
The winter semester begins at WiSo Nuremberg on Monday, October 18, 2021, with a large digital welcome for all first-semester students in both German and English.
After the welcome, students will head to the WiSo virtual info exchange. About 30 facilities, institutions, initiatives and company partners of the department presented themselves at the WiSo info bourse. Many WiSo institutions, such as the Language Center and the University Library, the student representatives and various service and counseling centers present themselves there. Student initiatives and company partners offer interesting information and insights. This year, too, new students can familiarize themselves with all the possibilities and receive information they need for a successful start to their studies.
In the afternoon, WiSo's inner courtyard will beckon with the mentor program's Gettogehter, where students can get to know the city and WiSo better live. WiSo's popular freshman bags will also be handed out that day. This welcome is part of the integral WiSo opening week, which for many bachelor students already starts the week before with the respective business games.