First-year students's welcome event
Welcoming new students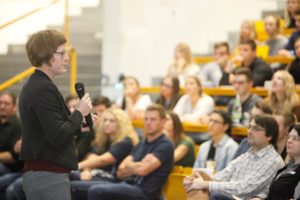 The Winter semester starts on Monday, October 14, 2019, with a welcome for new students at 8.15 a.m. in lecture theaters H4 and H1, Lange Gasse 20, Nuremberg.
At this event students studying the degree programs in Business Studies, Socioeconomics, International Business Studies and Information Systems are officially welcomed by representatives of the city of Nuremberg and the School's management.
It is also a chance to learn about various services available at the University, such as the Student Advice and Career Service, the International Office and the Language Center, as well as the role of the students' representatives and women's representatives. After the event, starting at around 9.15 a.m., there are introduction events for students of each individual degree program.
These are followed by an information event, 'Studenienstart: Info-Börse', from 10.00 a.m. where students can meet representatives of the School's institutes (foyer, levels 1 and 0). The lecture 'Introduction to mathematics' takes place at 12.15 p.m. This lecture is compulsory for all students of the degree programs in Business Studies and Socioeconomics.
Images from the first year students' welcome event in previous years are available in the photo and video archive (German).